The People Stories Stand Out the Most in Personal Aviation
AURORA, Ill., Sept. 1, 2022 – Julie Marrella has been a penchant for the travel industry. She's flown charter with rock bands and has provided concierge amenities to corporate travelers while serving as a sales director with a number of aviation charter companies.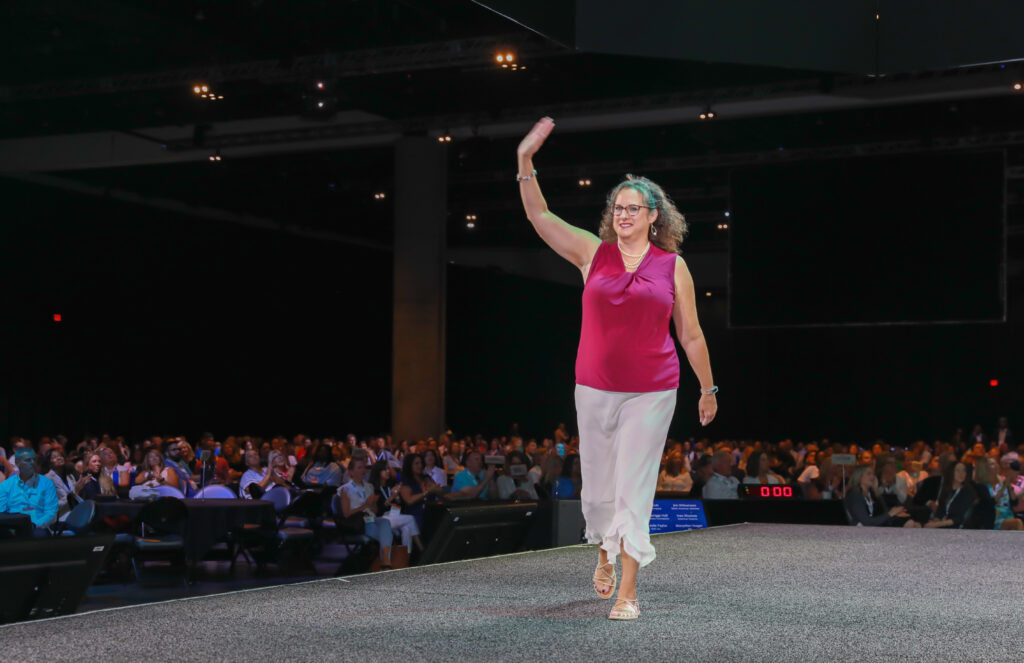 Earlier this year, Marrella earned the coveted Certificate in Corporate Travel Execution (CCTE) designation from Cornell University's Executive Education Division. She was honored during the Global Business Travel Association (GBTA) convention in San Diego in August.
As director of business development for Revv Aviation, Marrella oversees the company's business and personal charter sales operations. "What I find most interesting in the travel industry are the people. Some are rich and famous. Some are not-so-rich and not-so-famous. In the end, most are genuinely interesting people who have fascinating stories to tell."
One story that she fondly tells involves a famous Mexican singer. His pilots had to be mindful of the way the charter was pointing because the singer wanted only the right side of his face to be seen by fans and photographers when he exited the plane. He would say "that's my most photogenic side, although I couldn't see anything different on his left side," said Marrella.
Marrella also rode on the charter with one of the most influential and popular rock bands of all times. "I would ride with them for four days every two weeks," she said. "They called me their 'Air Transportation Logistics Guru' because I made sure all their travel needs were met. I would run out for cigars or a special bottle of wine or whatever was required," she recalled. "They were really fun and would allow me to bring guests and attend their concerts. I'm still best friends with the wife of one of the band members."
This additional industry designation is important to Marrella because the course targets travel professionals aspiring to advance their knowledge in travel and business best practices. "I highly recommend it to anyone involved with corporate or charter travel," said Marrella. "My background is mostly air charter but also includes chauffeured car service sales, aircraft sales, and selling/designing/curating managed corporate travel programs and the management of those programs," she said.
The GBTA honored the nearly 50 people who earned the CCTE designation during its gala dinner, attended by nearly 5,000 members from around the world.
Marrella has been with Revv Aviation since January 2021. She serves on the Education Foundation Board of Directors for the Chicago Area Business Aviation Association. To schedule a business or personal charter email [email protected] or call 331.227.5552
About Revv Aviation
Owned by CL Enterprises, Revv Aviation (revvaviation.com) has fixed-base operations in Aurora and Schaumburg, Il.; Council Bluffs, Davenport and Muscatine, Iowa; Huron, S.D.; and Janesville, Wis. In addition, Revv operates flight schools in Sioux City, Iowa, Moline, Ill., and Omaha, Neb. Revv Aviation provides Part 61 and Part 141 flight training, Part 135 charter services with both owned and managed airplanes, corporate pilot services, airplane maintenance, turbine and jet engine maintenance and reports, avionics, fuel services and aircraft storage. Revv Aviation is expanding in the Midwest and beyond.
About the CCTE designation
The Certificate in Corporate Travel Execution is a customized education offered in partnership between GBTA and Cornell University's Executive Education Division. Courses are taught by Cornell University professors who teach and research in business, travel, and hospitality. Curriculum focused on critical business travel topics including accounting, finance, human resources, sales strategy, risk and legal issues, and travel procurement.