AURORA, Ill., Feb. 2, 2023 – Janet Savko, chief dispatcher and office manager for Starr Equipment Corp. in Newburgh, N.Y., was the winner of the customized Revv-branded Gibson Flying V guitar at the grand prize drawing at the NBAA Schedulers and Dispatcher's conference in Nashville on Jan. 26.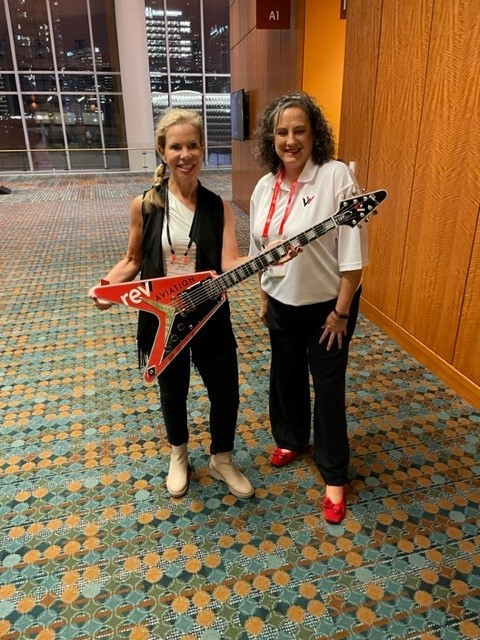 "I am honored" said Savko. "I don't currently play guitar, but I registered for the drawing because it is so cool and special. Now I have to take some lessons."
The custom Gibson Revv-branded Flying V guitar measures 43.5-inches long by 17-inches wide. Its body is made of mahogany, and the neck/fretboard are ebony with pearl inlays.
"We thought that a Gibson custom guitar would be the ideal giveaway during a conference in the Music City," said Guy Lieser, CEO of Revv Aviation. "I called Janet to congratulate her and to encourage her to take those guitar lessons as playing guitar can be relaxing and rewarding."
Revv Aviation commissioned the guitar in mid-2022 for this special giveaway.
Revv Aviation has a fleet of King Airs it charters from the C-90 to two 200s and two 350s. Revv also has a Pilatus PC-12NGX and a Beechcraft Baron on its Part 135 certificate.
Revv's charter niche is the turboprop space as it provides a more cost-effective and efficient way to travel for business or personal pleasure.
About Revv Aviation
Owned by CL Enterprises, Revv Aviation (revvaviation.com) has fixed-base operations in Aurora and Schaumburg, Il.; Council Bluffs, Davenport and Muscatine, Iowa; Huron, S.D.; and Janesville, Wis. In addition, Revv operates flight schools in Sioux City, Iowa, Moline, Ill., and Omaha, Neb. Revv Aviation provides Part 61 and Part 141 flight training, Part 135 charter services with both owned and managed airplanes, corporate pilot services, Part 145 piston, turbine and jet engine maintenance, avionics, fuel services and aircraft storage. Revv Aviation is expanding in the Midwest and beyond.