By Roderick Kelly
It was 2006 in Baghdad, Iraq; a time when al Qaeda was taking control of the country following the execution of Saddam Hussein.
"One night, a man knocked on our door," recalled Daniel Adams. "My Dad stepped outside and was given an ultimatum: convert to Islam (from Christianity) and stop working for the US Army, or we will kill you in front of your family."
Quick on his feet, Baseem Adams said to the man that it was impossible to convert overnight but that they would do so within a few weeks. That gave Baseem, his wife Mariam, and children Sandra, Edmon and Daniel, time to plan their getaway from the only country they knew.
"I was so young. I'm lucky to be alive," said Daniel.
Soon thereafter, and with the help of a US Army colonel with whom Mariam was a translator, the Adams family safely flew to Jordan. After some time, they made their way to the United States. The Adams believed they would settle near Washington, D.C., where the colonel lived. However, a missionary pastor talked to Baseem about living in Omaha, Neb. "My Dad asked if it was a good place to raise a family?" said Daniel. The pastor said, "Yes."
Daniel Adams' Life Takes Flight
The first time Daniel interacted with aviation was in Baghdad, and "it was frightening," he recalled.
"In the Middle East, you could walk out on the roof. My brother, sister and I were on the roof one night. It was getting darker," he said. "Out in the distance, we could see a flashing red light. "The red light kept getting closer to us. I could feel the vibration from the military helicopter. I saw smoke coming from the rotor, and it was crashing."
Before the helicopter hit the ground, the pilot shot off two missiles, he said. "It was pure pandemonium." (It was not a US Army helicopter.)
While Daniel's inaugural aviation experience may have traumatized most of us, it actually brought him closer to the skies.
"I always loved flying from a young age," said Daniel. "I learned much later that my dad wanted to be a pilot as well, but it was outside of his control because Christians were not allowed to be pilots at the time."
Aviation was always in the back of Daniel's mind as a teenager. So was teaching. When it came time for college, Daniel enrolled at the University of Nebraska-Omaha with the ambition of becoming a physics teacher. "I like physics, but I didn't love it. Three weeks into my first semester, I walked into the Aviation Institute and I've had no regrets."
Daniel completed his private pilot's license in July 2020 and graduated in August 2022 with a bachelor of science degree in Aviation. His final requirements were to pass the Certified Flight Instructor and Multi-engine check rides. "My dream is to fly for the airlines," he said.
From Student to Pilot
To attain that goal, Daniel is now a certified flight instructor with Revv Aviation. "I plan on doing this for two years before moving on to Jet Linx and then to Southwest Airlines," he said.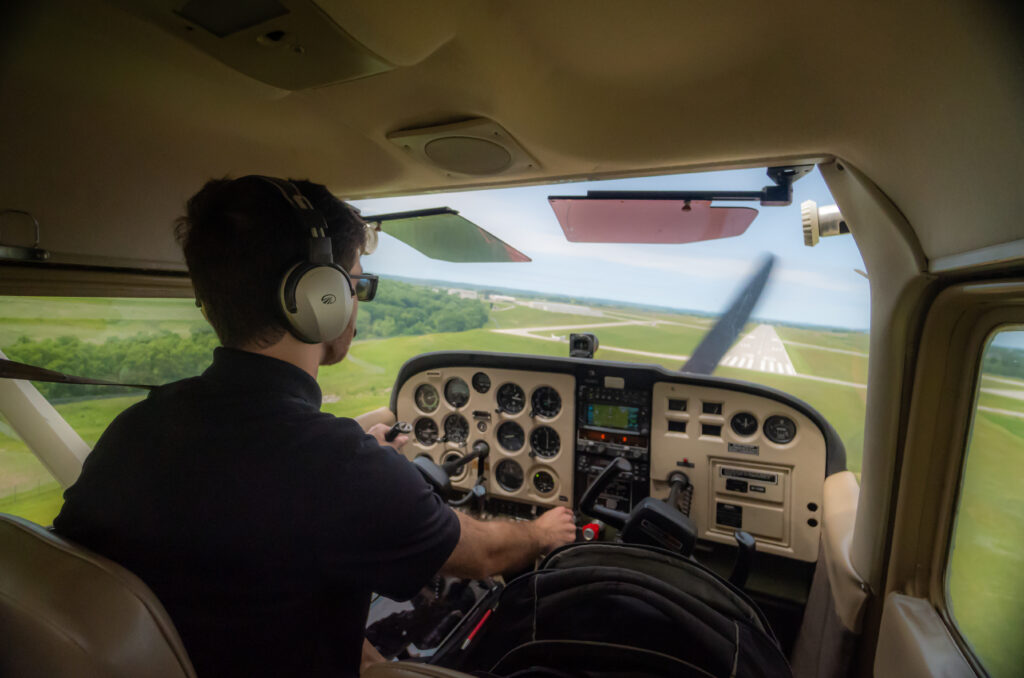 "I just want to fly airplanes," he said. "It's one of the most liberating passions you have. It's a job, but I don't look at it as a job. Being able to get in an airplane and just go somewhere is incredible. I get to see the planet and cities from a view very few people can see."
As a student at the University of Nebraska-Omaha Aviation Institute, Daniel had a choice of where he wanted to conduct the flight portion of his Part 141 degree. He chose Revv Aviation, which at the time was Advanced Air.
Advanced Air/Revv has been a flight partner with the Aviation Institute for more than 15 years and has more than 3,000 flight school graduates, many of whom attended UNO.
"I looked at the reputation, number of trainer planes, the instructors, quality of training, the airspace around the Council Bluffs Municipal Airport, and more," said Daniel. "I chose Revv because they gave me the best for each of these. It's been outstanding since day one. The people are so welcoming and helpful. I couldn't ask for a better flight school."
Daniel said it wasn't always easy. "I definitely remember some points in training, I thought, I cannot do this. I remember not being able to do a maneuver right. Then I would say to myself: 'Look outside. Look at the view. Look at your hands and what you're doing.' I told myself to suck it up, figure out the problem and work through it."
Great Time to be a Pilot
Daniel got into aviation at a time when there's a shortage of pilots, mechanics, avionics technicians and other professions within aviation.
Released in July, Boeing's "Pilot and Technician Outlook – 2022-2041," projects 602,000 new pilots, 610,000 new maintenance technicians and 899,000 new cabin crew members will be needed to fly and maintain the global commercial aviation fleet over the next 20 years.1
"It's a great time to be a pilot," said Daniel. "My dad is very excited for me. My mom was scared when I did my first solo ride and she's scared now because she's a mom. But she's happy for me."
Daniel's family members now are US citizens. He still has memories of the militia trucks on the streets and militants knocking on doors in his native Baghdad. But his future is not one of fear. Rather, it is one of boundless freedom and, for Adams, also the freedom of flight.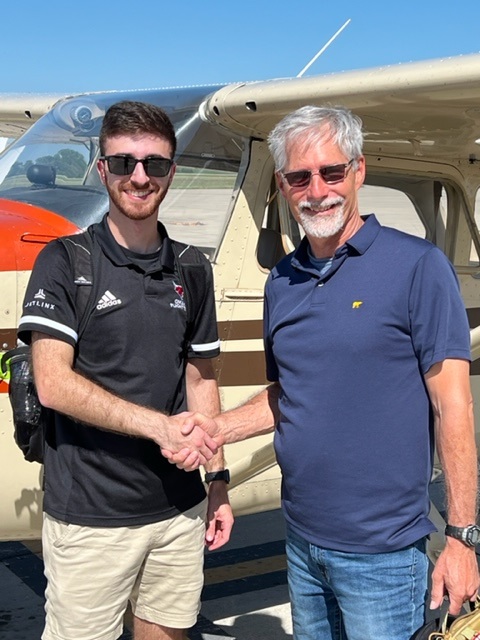 "When I hear: 'The sky is the limit,' I think that aviation goes well beyond that," said Daniel.
Roderick Kelly is the Marketing Director for Revv Aviation. He was a daily newspaper reporter and editor for more than 20 years and enjoys sharing stories about modern aviators and the future of aviation.