This article originally appeared in Aviation Pros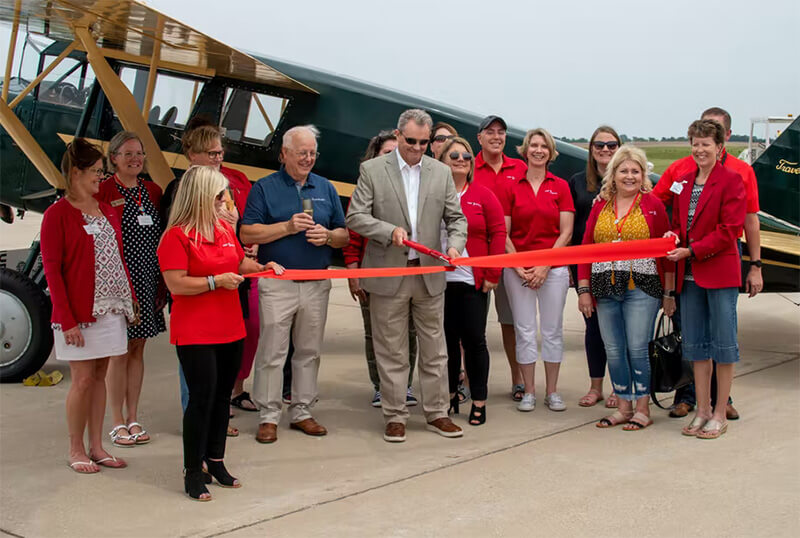 Carver Aero celebrated their recent acquisition of the Janesville Jet Center, located at the Southern Wisconsin Regional Airport, with a ribbon cutting ceremony and an open house of the FBO on July 16. Peter Limberger and Inga Carus, the husband-and-wife co-founders of CL Enterprises, Carver Aero's holding company, had aircraft from their collection on display as part of the festivities – including their 1929 Travel Air Model 10-D airplane.
Limberger explained that their plan for the Janesville Jet Center is to grow the business and its offerings. He said they are looking at bringing in flight school operations, air charter service and maintenance facilities. Limberger noted their other FBOs offer these services – Carver Aero's flight school has 200 students and counting – and it is part of CL Enterprise's overall business model for aviation.
"Our plan with aviation when we started with it one-and-a-half-years ago with Carver Aero … is called a roll up. There are many smaller FBOs on second tier cities, smaller cities which need a new home. Over time, people who have built up their business, operating it since 30 years, very successful, with family, they need succession. This is our idea to acquire more and more and build a network of smaller and medium size, full service FBOs," Limberger said.
Greg Cullen, director of the Southern Wisconsin Regional Airport, kicked off the ribbon cutting ceremony, expressing his gratitude for the Janesville Jet Center's former management team and applauding their many years working together, before welcoming Carver Aero to the airport.
"I'm really excited about team Carver and what they are going to bring to this airport, to the city of Janesville and the surrounding community in Rock County," Cullen said.
Steve King, former owner of the Janesville Jet Center, said Carver Aero's presence at the airport is an "unbelievable" opportunity for growth.
"I've always said for many, many years that this field and this wonderful community is a diamond in the rough," King said. "That it can and should, and, I know now, will have a significant impact on the economic growth of not only Janesville, but Rock County.
"What is really exciting to me, is that in team Carver, under Peter Limberger's leadership, is going to bring to this field something that we could only dream about," he continued. "They're going to bring assets and different services to the field that will grow this field as an enterprise and other businesses to come to Rock County."
CEO of Carver Aero, Guy Lieser concluded the ribbon cutting speeches, saying he was excited to have their first FBO operating Wisconsin.
"The airport has great attributes. It was one of the first things we discovered when we came up here. Great infrastructure, lots of ramp space and lots of opportunity to grow … and that is what our intentions are: Grow and continue to grow."