A Tale of Two Aviation Enthusiasts
Peter and Inga, the architects behind Revv Aviation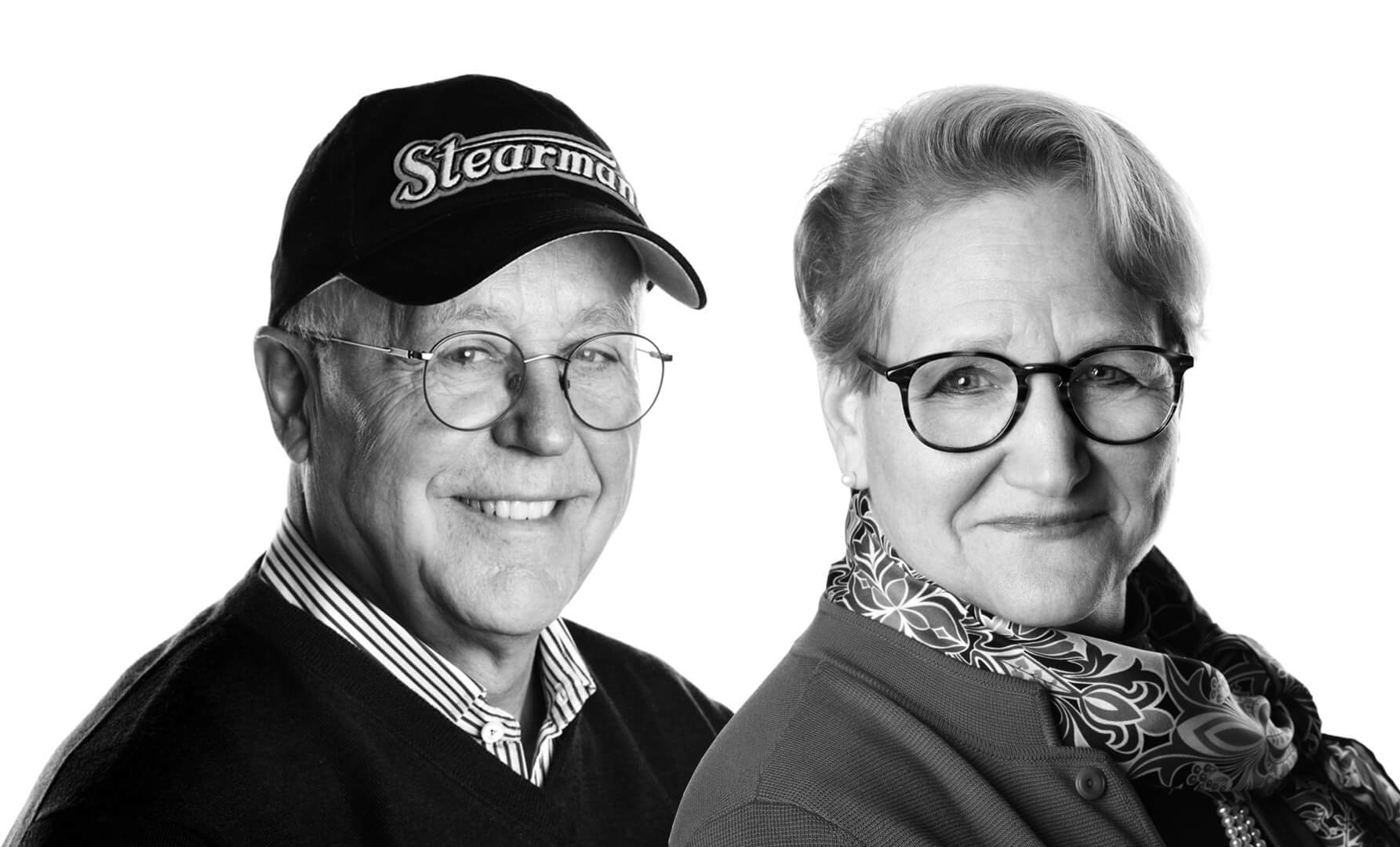 Decades ago, separated by an ocean, two entrepreneurs discovered the wonder of aviation. In Germany, young Peter Limberger longed to fly, but couldn't get his pilot's license as a teen. Instead, he learned to skydive and eventually became an instructor. It wasn't until he got his first job much later in Chicago as an engineer that he could afford flying lessons and got his pilot's license, flying out of Midway Airport. He would go on to receive advanced ratings and expand his skills to include aerobatic flying with an Extra 300, an aerobatic monoplane, and flying gliders.
Meanwhile, in the beautiful Starved Rock State Park area, in a small town along the Illinois River, young Inga Carus grew up under a big Midwestern sky, also dreaming of becoming a pilot. She began flight training at the age of 19, but as life unfolded, she didn't become a pilot until two decades later. Aviation was in her blood. Her great uncle was an aviator who flew a 1929 Travel Air 10-D, a luxury closed-cockpit plane which he used for business and private travel, before selling it in 1944.
Peter and Inga's paths crossed in 1996, when Peter was helping Inga and her father make inroads in Germany with their family business, Carus Chemical. Although the original collaboration didn't pan out, Inga and Peter reconnected on a sales trip that Inga made to Germany in 2005. It wasn't long before they realized their many shared interests and values, including their mutual love for aviation.
Peter and Inga married in 2007 and enjoyed many romantic, sunset flights over scenic Starved Rock in their Stearman aircraft. Together, they are a successful entrepreneurial force. They have a shared love for the small towns of the Midwest, and a boundless belief in their economic potential. They welcomed two daughters, Nicola and Mariana, into their family, and in 2010 they launched CL Enterprises (CLE), a holding company for the couple's businesses.
Headquartered in Peru, Illinois, the CLE companies are united by a mission to elevate small town communities and build stable businesses and jobs where employees can develop and thrive. Revv Aviation joins the other businesses under CLE's umbrella, which encompasses hospitality, restaurant, wood products, agricultural and real estate interests. All CLE businesses seek to strengthen and revitalize communities while contributing to the economic success of their respective hometowns. 
Given the opportunity to acquire Carver Aero in 2019, Peter and Inga couldn't resist. They had already envisioned a network of FBOs across small town America. It was a vision consistent with CLE's core principles and an exciting challenge for aviation enthusiasts. Today, the pair follow the path of those pioneers who built aviation legacies in their own communities. Their vision is "to be good stewards of aviation for the next 100 years."
In celebration of this new chapter of their life, Peter and Inga went on a search for her great uncle's Travel Air 10-D. Amazingly, Peter and Inga found Uncle Hermann's airplane with the original engine completely restored. It sat proudly in the fabulous Eagle Mere Air Museum in Pennsylvania, and they were able to bring it back to its rightful place within the Carus family at Peru, Illinois' KVYS airport, where it started its life more than ninety years ago.
The Travel Air 10-D N418N is the only surviving airplane of this type, and it serves as a marketing ambassador for Revv – a symbol of the fact that Peter and Inga are not only building a business, they are building a new aviation legacy of their own.